Welcome to Garden Place Columbia
Many of the staff members at Garden Place Columbia have been here since this retirement and assisted living community first opened its doors, and this longevity shows in their warm relationships with the senior residents. You might see a staff member and a resident sharing a bear hug or a belly laugh!
Whether you want an active lifestyle that includes walking, dancing, shopping and dining out, or you're more interested in relaxing with bingo, trivia or arts & crafts, Garden Place can keep you as busy as you want to be. Love gardening? Check out the Flower Club. Not afraid of a little technology? Our Wii games will keep you laughing and sharp! This is just SOME of the fun stuff we do!
And the setting? How about quiet fields, a tranquil fishing pond, a covered front porch, or a 3-season room to enjoy the views? There's so much to enjoy with your new friends, and it's all just seven miles from the South County Shopping Center in St. Louis, Missouri— so old friends and family are conveniently close.
Come by or contact us to take a tour soon! We would love to show you how to begin living the life you deserve, with the privacy and independence you want.
A Compass Senior Living community
Passion and Commitment
We believe in person-centered and elder-directed care. We warmly welcome you to experience our senior health and wellness programs, social events, book clubs, "how to" workshops and tailored exercise programs for seniors. Our team believes if you do the right thing, the right things happen. We are guided by goodness, loyalty, faith, and fun.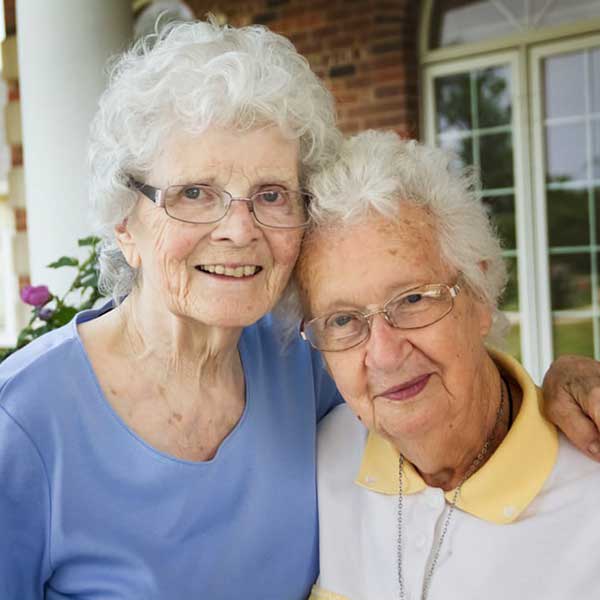 Assisted Living at Garden Place Columbia
Assisted living is a more home-like alternative to a nursing home that was created in the 1980s. This type of community living provides a wide array of services designed to keep an elder as independent as possible, for as long as possible.
In most cases, assisted living helps seniors stay more active, social, and engaged in life than they otherwise would be living alone. Not to mention the added peace of mind with 24-hour staff, assistance with medications, and communication between healthcare providers.
Respite Stays at Garden Place Columbia
Garden Place offers senior respite care where you or your family member will:
Enjoy access to personalized care services (including medication management and other assistance based on your needs)
Participate in our Life Enrichment Program
Receive delicious meals and snacks each day
Have a completely furnished room to stay
Be a welcome guest in our home-like environment
Have peace of mind with a 24-hour care team available if you need them
Another bonus? The chance to socialize, exercise, receive therapy services and be cared for in a community environment decreases the risk for premature nursing home placement.
If you could use a break from caregiving during the day, please contact us anytime!
To learn more about life at Garden Place Columbia watch our video!